There's a Place for You at St. Andrew's Church
We would like to personally invite you to come join us some Sunday at St. Andrew's United Methodist Church. Our friendly, relaxed, atmosphere is enjoyable for guests of all ages and any walk of life.
Through meaningful messages, scripture, and music; our goal is to help you grow deeper in your relationship with God each and every week!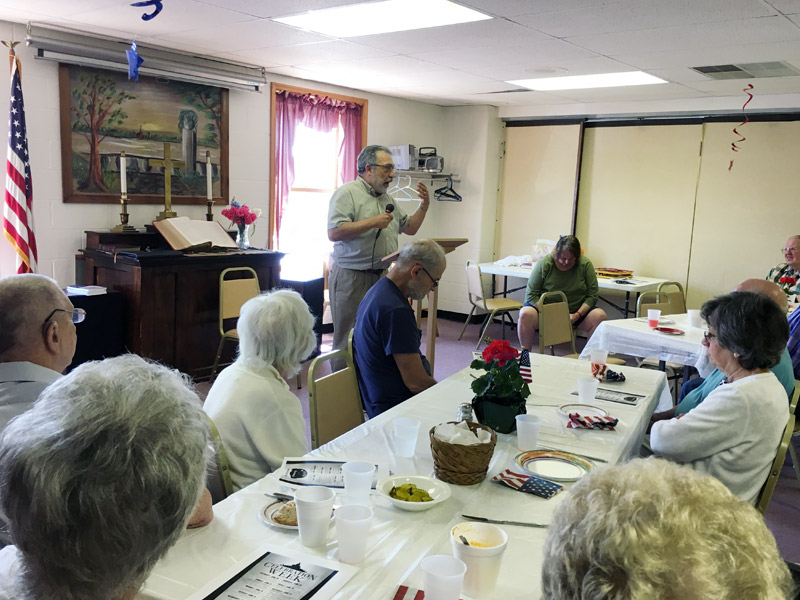 When to Arrive
On Sunday morning, our church is filled with activity. Whether you are looking to join a Sunday school group session discussing various relevant topics each week, join in fellowship, or worship in a service with us; we'd love to have you!
Sunday school begins at 9:00 AM
Church begins at 10:30 AM
Parking
We offer an abundance of off-street parking spaces in our lot beside and behind the church. We offer handicapped-accessible spaces towards the front of the lot as well as a carport with a wheelchair accessible ramp available for easy access to the main entrance of the church.
Our parking lot is accessible from Lower Market Street, Garfield Avenue, and Ferry Lane.
Our address is 102 Lower Market Street in Milton, PA.
The Main Entrance
We might be biased, but guests have told us hospitality is something we clearly strive to achieve. You'll be greeted as soon as you enter the church by folks who will be able to answer questions you may have regarding our service and Sunday School classes. Our main entrance is right off the parking lot up the steps or ramp accessible from the carport.
Our Worship Service
At St. Andrews, we have a worship service at 10:30am every Sunday with nursery services, and Children's Church provided. Featuring a blend of traditional hymns, contemporary worship music, we cater to all ages at our service.
We invite you to participate to the level with which you are comfortable. Since we believe that Christ invites to His table all who love Him, all are invited to the Lord's table when we celebrate Communion. The decision to participate in Communion is between you and God.
Worship begins at 10:30AM but we open our gathering place around 8:30AM for Sunday School followed by fellowship time and worship.
Sunday School
Faith-based instructional Sunday School is offered for ages 2 through grade 12 from 9AM to 10AM. We also offer a number of Adult Sunday School classes for you to deepen your faith. Nursery care is provided.
Childcare
St. Andrew's wants you to be able to enjoy your time of worship while you are here. Children are more than welcome to participate in the service, but we do offer childcare in the lower-level of the church during the service. Our loving volunteers are ready to care for your child in a clean, nurturing environment.
We also dismiss children for "wee-church"/children's church prior to the sermon for biblical-based lessons, movies, and crafts.
The safety of your child is a priority. St. Andrew's has a Safe Sanctuaries policy ensuring that all volunteers have completed background checks and annual training.
Our Ministries
Our path to growing as disciples of Jesus involves participation in Bible studies, worship, ministry inside the church and missions outside the Church. Whatever your age, there is an opportunity for you to join in life as a Disciple.