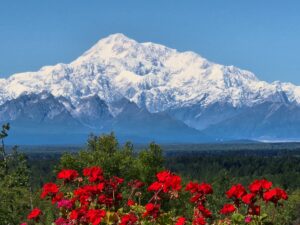 What has had two names in the past 126 years and is the tallest of it's kind in North America and third tallest in the world? The correct answer is the mountain, Denali (previously called Mt. McKinley), in Alaska. I guess I am still in my nature mode since coming home from our visit to the 49th state. I was reminded several times during our trip of the different bible verses about the beautiful creation that God has given us to be custodian's of. Like "Ah, Sovereign Lord, you have made the heavens and the earth by your great power and outstretched arm. Nothing is too hard for you." Jeremiah 32:17 or Psalm 121:1-2, "I lift up my eyes to the mountains — where does my help come from?"
God's creation – moose, grizzly bear, caribou, whales, or eagles. To see these animals in their natural habitat was remarkable. I think about Psalm 104:24-25, "How many are your works, Lord! In wisdom you made them all; the earth is full of your creatures. There is the sea, vast and spacious, teeming with creatures beyond number, living things both large and small." I can see the whales spouting out their blow holes and talking to each other (the sound was spectacular). In the Job 12:8, it tells us, "Let the fish in the sea speak to you."
But as we settle back into good old Pennsylvania (second state in the Union) we see the beauty of God's creation around as well. God's natural world is full of wonders. Take time to look around you and take a moment to praise God for His works through creation.
As always, be blessed by what He has done through His only Son, Jesus, the Messiah.
Dave
---
Be sure to check out this article in our full newsletter from February 2020 - Click Here!